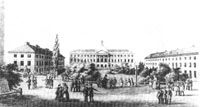 The traditions of this Division stretch back to the beginning of the 19th century, when the first exhibits were put on show in Krakowskie Przedmieście Street, in the Kazimierzowski Palace, by the "Zoological Cabinet" to Warsaw Royal University.
Organised in line with 19th-century practice – with specimens of common animal species arranged in line with their taxonomy – the Museum won renown for itself among the inhabitants of the Polish capital.
In 1919, there was enrichment of both the collections and the venues at which they went on show when a merger between the Zoological Cabinet and the Branicki Museum took place. Post-War, the first effort was to mount a permanent exhibition of specimens belonging to all possible systematic groups of animal. This was thus to serve as an aid to the teaching of zoology in schools – a purpose it served pretty effectively for a number of years. As time passed, more and more rooms were pressed into service for this purpose, and then increasingly for the organization of temporary displays (e.g. anything from "Our Institution's Traditions of Friendliness and Cooperation" to "The Phylogeny and Systematic Status of the Reptiles").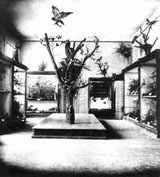 Between 1959 and 76, hired premises in the Palace of Culture and Science were used to set up an exhibition centering around the fundamental division into vertebrates (on show under the title "The Evolution of Animals with Backbones") and invertebrates ("A Review of Invertebrate Animals"). The several shorter-term displays and exhibitions indicate how times were beginning to change, their titles including "Charles Darwin: His Life and Work", "Nature Conservation", "Ornithological Photography" and "Animal Geography"). Happily, the combined permanent-temporary approach now being taken by the Institute's staff was earning them ever more of a good name across Poland. So much so that the first cooperative ventures with other museums around the country began to be launched. Altogether, such cooperation with close on 20 museums was entered into throughout the period 1964-1976, the partners in different regions receiving substantive good advice on how to proceed, draft versions of how the displays might look, and of course loans of many specimens, prepared as necessary. The advice given ultimately evolved into the fully-fledged provision of training.
The exhibiting activity of the Institute was suspended in the years 1976-1992. However, in the latter year a Division of Exhibitions and Popularisation was reactivated. This then put on two exhibitions whose permanent venue was the Palace of Culture and Science, these being entitled "Animals of South America from the Collections of the Museum and Institute of Zoology PAS" and "Do We Know Them? The Earth's Environments for Life". On top of that a whole series of temporary exhibitions were mounted, like "Hummingbirds", "Seashells", "Childhood has the Wings of a Butterfly"...", "Journeys Around an Invisible World – a Display of Scanning Nature Photography" and "The Noah's Arks of Our Times – Selected National Parks of the World").